Advent is a time of patient waiting for the coming of the Lord.  It is also a time of 'adventuring' deeper into our relationship with God as individuals, as a family and as a community.
In a year when many of our traditional Advent activities are restricted, we want to present you with this list of creative activities from which you can choose some or all to do.  Our purpose in presenting these activities is threefold:
To enrich our 2020 Advent/Christmas experience
To energize our faith traditions and practices
To engage our family and community in our intentional preparation for Advent.
Our hope is that the St. Margaret Mary Parish community can truly celebrate the greatest gift we have, the presence of Jesus Christ among us as one of us.
Worship/Spirituality
Advent Prayer Service
Attend our Parish Advent Prayer Service and gift yourself with quiet prayer, soft music, and beautiful lights, Saturday, Dec. 12 at 7 pm. in Church. Tickets are needed and are available on our EVENTBRITE PAGE.
---
Create  an Advent Wreath for your home. 
Be inspired by this video of Parishioner Mary Margaret Vasquez explaining the symbolism of the Advent Wreath and sharing creative suggestions on how to make your own. Share your creation with your Parish community on-line by sending a photo of your family's Advent Wreath for posting on our website to: [email protected], OR post your wreath photo on your social media using #SMMAdvent.  Weekly prayers as you light each candle can be found on our website. Here are some simple prayers to say each week when we light the Advent wreath.
Sourcing list:
Blessing of the Advent Wreath
When the blessing of the Advent Wreath is celebrated in the home, it is appropriate that it be blessed by a parent or another member of the family.
Leader: Lord our God, we praise you for your Son, Jesus Christ: he is Emmanuel, the hope of the peoples, he is the wisdom that teaches and guides us, he is the Savior of every nation. Lord God, let your blessing come upon us as we light the candles of this wreath. May the wreath and its light be a sign of Christ's promise to bring us salvation. May he come quickly and not delay. We ask this through Christ our Lord. READ MORE.
Discipleship
Advent Meditations
Rejoice! Advent Meditations with the Holy Family is a prayer resource with daily meditations that will enrich your Advent by inviting you to experience the first Advent with Joseph and Mary, as they await the birth of their son, the Savior of the world. The program includes weekly videos (free), as well as a journal of daily reflections that can be purchased from Ascension Press. https://ascensionpress.com/collections/rejoice-advent-meditations-with-the-holy-family
---
Weekly Advent Video
Each week of Advent we'll share a brief video with Gospel reflections from SMM parishioners, a recap of Advent-related activities in the parish, and a challenge to "Spread the Spirit" in our community.
First Sunday of Advent:
Outreach & Connect
Advent Yard Signs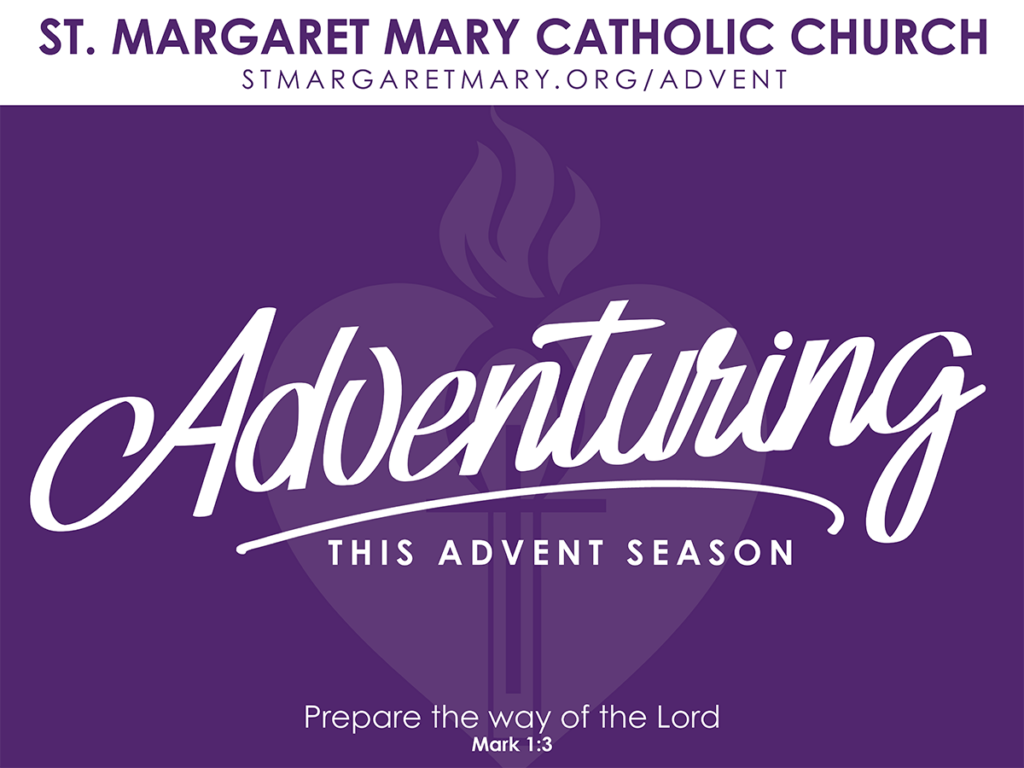 Available for purchase. Order online and pick up here at St. Margaret Mary. $5 per sign. Buy 2: one for your  yard and one to give to a neighbor with promises of prayers for them.  Drive thru pickup Monday Nov. 30th at 10-1 OR 3-5pm. Proceeds go to our Haiti Ministry.
---
Parishioner Spotlights
Each week of Advent we will shine the light of Advent on one member of the parish who has just moved here and one member who has lived here for many years.
Advent Week One: https://stmargaretmary.org/wp-content/uploads/2019/12/Parishoner-Spotlight-for-Advent1-1.pdf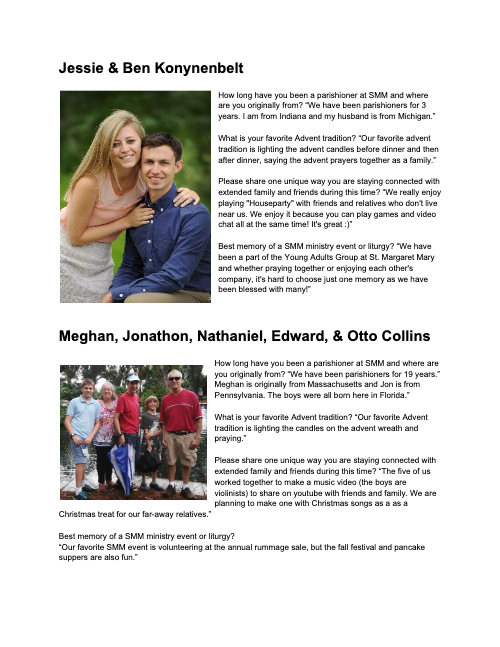 ---
Reverse Advent Calendar/Food Box
Parishioners are invited to add a non-perishable food item to a box each day of Advent. On Christmas eve donate your 24 item food box to a local food bank or homeless shelter. See this list for some ideas: https://stmargaretmary.org/reverse-advent-calendar
Additional Resources
For a list of Advent daily reflections, videos and resources (including the "Little Blue Book"), please go to: https://stmargaretmary.org/advent-resources