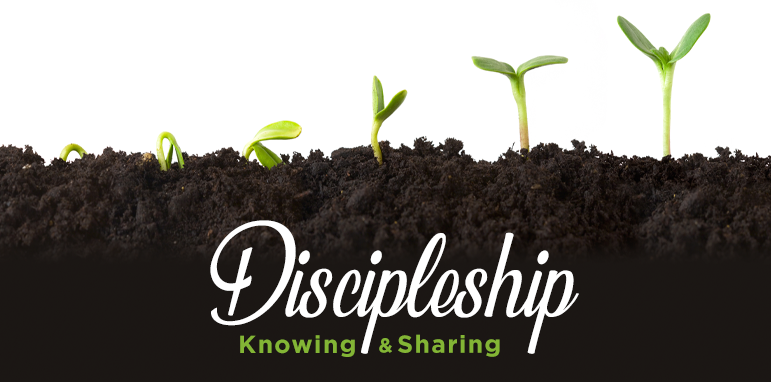 Discipleship Prayer   
Good and gracious God, Your Son, Jesus Christ, calls all people to follow Him and become His disciples, inviting us to know Him and share Him with others.
Touch our hearts and stir our spirit.
Help us daily to take up our cross and follow Him by living His Word and proclaiming His Good News to those around us.
May our faith in You increase, may our hunger for the Gospel intensify, and may our parish be strengthened as we learn to love one another as He has loved us.
Amen
Last year, as part of our parish plan, we focused on the theme of Discipleship using the Gospel of Matthew as our guide.  This year, we will, again, focus on Discipleship, but this time through the lens of the Gospel of Mark.  One weekend each month, we will concentrate on this particular theme.  We also will be providing thought-provoking Discipleship questions each week for both children and adults to ponder or discuss with one another.
Pope Francis recently issued a letter entitled Fratelli Tutti, translated as "All Brothers and Sisters", which speaks to our current challenges in the world, emphasizes the importance of human dignity and calls for a love that transcends barriers.  It serves as a guide to Discipleship in our modern world.  We encourage you to go to our website and read Fratelli Tutti.  We have links to the document and to other helpful resources.
Discipleship Weekend: April 11th, Second Sunday of Easter (Divine Mercy Sunday)
Scriptural Focal Points:
Second Reading: "The victory that conquers the world is our faith." (1 John 5)
In John's letter, we are reminded that all who believe in God, believe in Jesus Christ.
By believing in Him, we believe in eternal life. This faith leads to victory over death.
Jesus Christ "who came through water and blood" refers to Jesus shedding his blood for our salvation.
Gospel: "Put your finger here and see my hands, and bring your hand and put it into my side, and do not be unbelieving, but believe." (John 20)
Jesus shows his wounds to Thomas so that he may believe.
Jesus meets Thomas where he is and invites him to move from doubt to faith.
Considerations:
Second Reading:
Through our faith, we believe in life over death, darkness over light, good over evil.
We may go through times where we have doubt, where we struggle with unbelief, where we falter during moments of adversity. Our merciful God sent the Holy Spirit to assist us during life's challenges.
As disciples of Christ, how can we be a vessel, overflowing with God's grace for others?
Gospel:
Thomas needed to physically see and touch the scars/wounds of Jesus Christ so that he would believe.
We are continually invited into a deeper relationship with Jesus Christ through the mercy of God.
Jesus' resurrected body could have been made whole, but, by retaining those scars, Jesus was able to minister to Thomas, to mercifully meet his need for proof and walk with him from doubt to belief.
What scars/wounds do we have that might help us minister to others? When we're filled with doubt or are enduring a particularly difficult time in our lives, do we focus on the difficulty or pray for God to show where he is amidst the challenging situation we have encountered?
Fratelli Tutti
#36 If only we might rediscover once for all that we need one another, and that in this way our human family can experience a rebirth, with all its faces, all its hands and all its voices…
#54 Despite these dark clouds [of the pandemic]…we began to realize that our lives are interwoven with and sustained by ordinary people valiantly shaping the decisive events of our shared history…they understood that no one is saved alone.
#74 The guarantee of an authentic openness to God…is a way of practicing the faith that helps open our hearts to our brothers and sisters.
#227 Truth, in fact, is an inseparable companion of justice and mercy. All three together are essential to building peace.
#254 Let us ask [God] to anoint our whole being with the balm of his mercy, which heals the injuries caused by mistakes, misunderstandings and disputes. And let us ask him for the grace to send us forth, in humility and meekness, along the demanding but enriching path of seeking peace.
Questions of the Week
April 4: Easter Sunday
Children:  Why do we rejoice at/celebrate Easter?
Adults:  How have I come to believe?  Has someone played an important role in my faith? If so, who?
April 11: Divine Mercy Sunday
Children:  How am I most like Doubting Thomas?  How am I most like faith-filled Thomas?
Adults:  What wounds or scars have I received in my life that I might share as a source of encouragement with others who are encountering difficulty?
April 18: Third Sunday of Easter
Children:  How do I show others that I believe in Jesus?
Adults:  How do I explain what the presence of Jesus in my life means?  How can I be a witness?
April 25: Fourth Sunday of Easter
Children:  In the Gospel, who is the shepherd? Who are the sheep?
Adults:  Who are the sheep that you are called to shepherd and how do you give of your life for them?