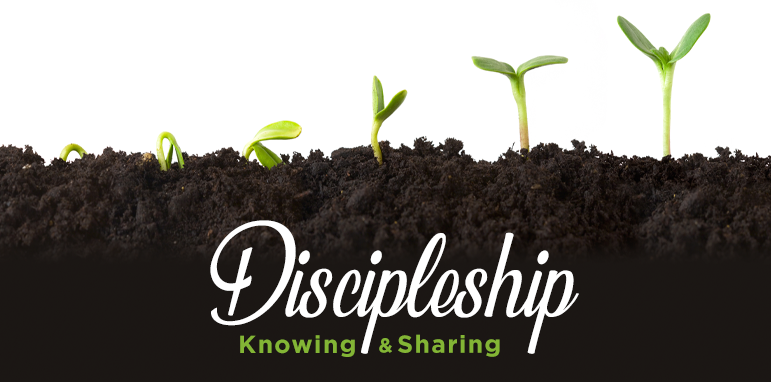 Discipleship Prayer   
Good and gracious God, Your Son, Jesus Christ, calls all people to follow Him and become His disciples, inviting us to know Him and share Him with others.
Touch our hearts and stir our spirit.
Help us daily to take up our cross and follow Him by living His Word and proclaiming His Good News to those around us.
May our faith in You increase, may our hunger for the Gospel intensify, and may our parish be strengthened as we learn to love one another as He has loved us.
Amen
Last year, as part of our parish plan, we focused on the theme of Discipleship using the Gospel of Matthew as our guide.  This year, we will, again, focus on Discipleship, but this time through the lens of the Gospel of Mark.  One weekend each month, we will concentrate on this particular theme.  We also will be providing thought-provoking Discipleship questions each week for both children and adults to ponder or discuss with one another.
Pope Francis recently issued a letter entitled Fratelli Tutti, translated as "All Brothers and Sisters", which speaks to our current challenges in the world, emphasizes the importance of human dignity and calls for a love that transcends barriers.  It serves as a guide to Discipleship in our modern world.  We encourage you to go to our website and read Fratelli Tutti.  We have links to the document and to other helpful resources.
February, 2021
Gospel/Scripture Focal Points: 
First Reading:  Genesis 22:   Abraham's response to God's call
Abraham replies: "Here I am, Lord."   / then hears heartbreaking "command" to sacrifice his first-born son
Abraham remains obedient, and the presence of God doesn't abandon Abraham; his son lives. The blessings of Abraham's fidelity and obedience: not only that his son lives, but his "descendants shall be as countless as the stars."
Gospel:  Mark 9:  Transfiguration
Peter, James and John briefly glimpse Christ in His glory – disorienting, frightening, yet hopeful
The voice tells them: "This is my beloved Son. Listen to Him."  Then… they no longer saw anyone but Jesus alone with them.
Jesus charges them not to tell anyone until He rises from the dead!
Considerations 
Abraham models discipleship:
A heart-felt "Here I am, Lord" response to the presence of God.
But our "yes" can lead to real struggles / difficult decisions as we continue to listen to God. The willingness to sacrifice what was absolutely most important in their lives was heart-wrenching for Abraham (and Sarah)
Fidelity leads to a whole new reality: Abraham's son lives; but he also receives a blessing that is totally beyond his grasp as he envisions his life:  that his blessing was not only for him, but for all generations.    The blessings in our lives can totally surprise us!
The "yes," the struggle and the blessings - are the substance and the meaning of the life of discipleship. /   Expand on how fidelity and obedience to the call carries us through difficulty to experience a deeper and even unexpected joy
Jesus' Transfiguration
Our glimpse of Jesus' power in our lives / maybe through a special moment / a sacramental celebration / an event : draws us in to see Him as a powerful presence.  We may want that experience to last. / We commit to "listening to Him; listening to the Beloved Son"
But life brings us back down to earth – to live our everyday lives. As Jesus brought the disciples back down to earth -  discipleship means accepting the passion and death -  discipleship carries a cross.
We listen to and follow "Jesus alone," the only one who remained with them after the Transfiguration.
If Jesus is both "full of glory" (Transfiguration) and "Suffering Servant" (Passion and Death), how do these elements of His life play out in our lives?
This is the experience that is pre-figured in Abraham's fidelity; our "yes" moves us through sacrifice to blessings as countless as the stars / to the fullness of life
Fratelli Tutti (Read more about this Encyclical)
# 166:  "Everything, then, depends on our ability see the need for a change of heart, attitudes and lifestyles."
Questions of the Week
February 7:  Fifth Sunday in Ordinary Time
Children: I can help those who are sick and suffering by ________________.
Parents / Adults:   The Scriptures invite us to focus on the mystery of suffering:  how do you maintain trust in God even when the going is difficult, or how can you help others to do so?
February 14th:  Sixth Sunday in Ordinary Time
Children: How can I help someone who feels alone or is having a hard time, even if it is not easy for me?
Parents / Adults: Who are the "isolated" or "outcasts" in our communities and how can you reach out to them and offer support or comfort?
February 21st: First Sunday of Lent
Children: What loving choices can I make for Lent?
Parents / Adults: "How do you hope to grow and change during Lent?"
February 28th: Second Sunday of Lent
Children:  If prayer is listening, how do I listen to God?
Parents / Adults:  What changes can you see in your life when you are willing to first say, "Here I am, Lord?"