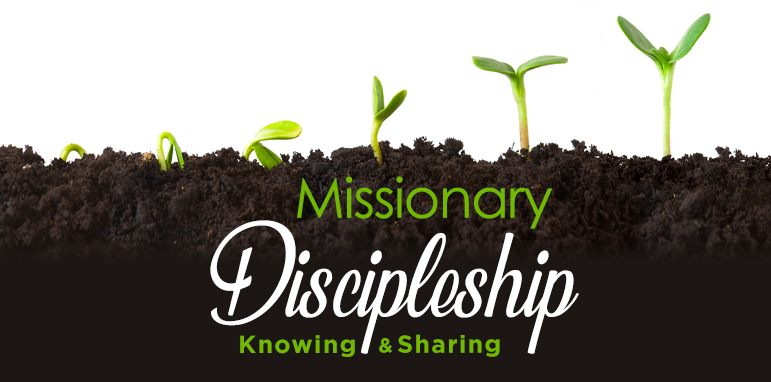 Missionary Discipleship Prayer
Lord, Jesus Christ,
You invite all of us to know You
and to share You with others.
You call us to be Your missionary disciples
and bring Your love to our world.
Touch our hearts and stir our spirit.
Help us daily to take up our cross
and follow You by living Your Word
and proclaiming Your Good News
to those around us.
May our faith in You increase,
may our hunger for the Gospel intensify,
and may our parish be strengthened
as we learn to love one another
as You have loved us.
Amen
Missionary Discipleship Sunday
July 10, 2022
Scriptural Focal Points:
First Reading:  Deuteronomy 30:10-14
"For this command that I enjoin on you today is not too mysterious and remote for you. It is not up in the sky…nor is it across the sea.. No, it is …already in your mouths and in your hearts: you have only to carry it out."
Second Reading: Colossians 1:15-20
Christ Jesus is the image of the invisible God…in him were created all things….In him all things hold together.
In him all the fullness was pleased to dwell … making peace by the blood of his cross.
Gospel:  Luke 10:25-37
"What must I do to inherit eternal life" … and the scholar of the Law said in reply, "you shall love the Lord, your God, with all your heart, with all your being, with all your strength, and with all your mind, and your neighbor as yourself."
"And who is my neighbor?" The story of the Good Samaritan.
Considerations:
Our times are afflicted with great division. Accusations and anger are present ….in cultures, politics, the church, relative to national groups, to immigrant groups and more.   What message do the Scriptures bring us this weekend as we look at our discipleship?
The first reading from Deuteronomy tells us that the Lord's commands, the wisdom and guidance we need, are not far from us, not in the sky or across the sea, but already in our hearts and in our mouths. We have only to carry it out.
The 2nd reading, from Colossians, tells us that it is Christ Himself who is making peace by the blood of His cross. This reconciling of all things is through Him, the creator of all and the One in whom all things hold together.   He too is not far from us, and is in fact, taking the initiative to show us His love and to reconcile us through His Cross.
But it is not enough to "know the law," to know the commands, or even to know deep down what must be done. Jesus says, in the Gospel, that we must act, we must be reconcilers ourselves.  And with the story of the Good Samaritan, He tells us how to do it.
There are so many dimensions in the Good Samaritan story, and we can easily see parallels for our lives.

The story too revolves around groups and cultures that excluded each other, with groups finding the other to be "wrong" and to be kept at a distance. Building walls to distance each other is common.
The story includes the religious elite, who moved to the other side of the road. We can often take a position of indifference, or worse, arrogance, in face of the struggles of others.
Sometimes we only learn by taking the step of being close to someone in need. Then we come to know the loving God who is already in our hearts.  Pope Francis summons us to a revolution of tenderness.  Perhaps in our time, the first step of tenderness is listening, and trying to walk together, remembering that Christ is already present, "making peace by the blood of His cross."
Surprisingly, we may learn from those whom we have judged most severely, as did the bystanders when they learned that the one who showed mercy was the Samaritan, one of those they had cast aside.
What mystery is at work here: Jesus says that when we "treat others with mercy," then the law of love is fulfilled.
Joy of the Gospel
# 24  "An evangelizing community gets involved by word and deed in people's daily lives; it bridges distances, it is willing to abase itself if necessary, and it embraces human life, touching the suffering flesh of Christ in others."
# 37  "Works of love directed to one's neighbor are the most perfect external manifestations of the interior grace of the Spirit."
# 49  "I prefer a Church which is bruised, hurting and dirty because it has been out on the streets, rather than a Church which is unhealthy from being confined and from clinging to its own security."
# 54  "Almost without being aware of it, we end up being incapable of feeling compassion at the outcry of the poor, weeping for other people's pain, and feeling a need to help them, as though all this were someone else's responsibility and not our own."
# 88  "The Son of God, by becoming flesh, summoned us to the revolution of tenderness."
Questions of the Week
| | | | |
| --- | --- | --- | --- |
| Date | Scripture | Question for Children | Question for Adults |
| 7.3.2022 | Luke 10:1-12, 17-20 | What is a disciple of Jesus?  Am I a disciple? | What does it mean for you to be sent as a lamb among wolves, carrying no money bag…" |
| 7.10.2022 | Luke 10:25-37 | When do I stop to help those in need? | When have you put yourself at risk to help someone?   Were you glad you showed mercy? |
| 7.17.2022 | Luke 10:38-42 | How can I be a better listener of Jesus' messages? | How do you include both prayer and action in your life? |
| 7.24.2022 | Luke 11:1-13 | What do I think about when I pray? | When you pray the Our Father, how can you change it from repetitive words to a prayer of deep trust in the Father? |
| 7.31.2022 | Luke 12:13-21 | Does having a lot of things ever get in the way of loving others? | How would you change that old phrase "Whoever dies with the most toys, wins" to a phrase that expresses Jesus' view of possessions? |