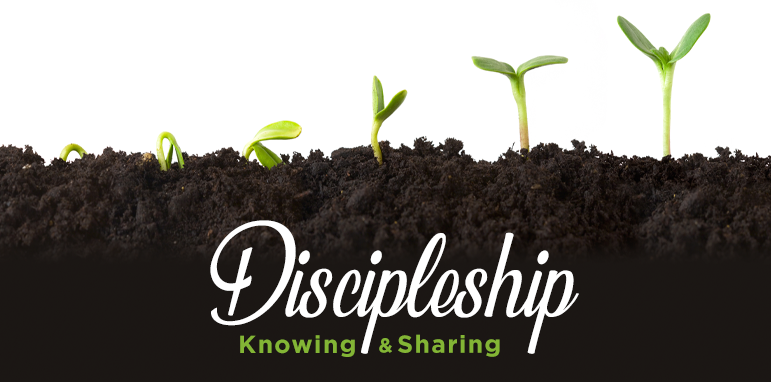 Discipleship Prayer   
Good and gracious God, Your Son, Jesus Christ, calls all people to follow Him and become His disciples, inviting us to know Him and share Him with others.
Touch our hearts and stir our spirit.
Help us daily to take up our cross and follow Him by living His Word and proclaiming His Good News to those around us.
May our faith in You increase, may our hunger for the Gospel intensify, and may our parish be strengthened as we learn to love one another as He has loved us.
Amen
Last year, as part of our parish plan, we focused on the theme of Discipleship using the Gospel of Matthew as our guide.  This year, we will, again, focus on Discipleship, but this time through the lens of the Gospel of Mark.  One weekend each month, we will concentrate on this particular theme.  We also will be providing thought-provoking Discipleship questions each week for both children and adults to ponder or discuss with one another.
Pope Francis recently issued a letter entitled Fratelli Tutti, translated as "All Brothers and Sisters", which speaks to our current challenges in the world, emphasizes the importance of human dignity and calls for a love that transcends barriers.  It serves as a guide to Discipleship in our modern world.  We encourage you to go to our website and read Fratelli Tutti.  We have links to the document and to other helpful resources.
Discipleship Weekend:: July 11th, Fifteenth Sunday in Ordinary Time
Scripture Focal Points:
Gospel: "Jesus summoned the Twelve and began to send them out two by two…"  (Mark 6:7-13)
Jesus extends his mission of proclaiming the coming reign of God in word and deed by sending out the Twelve to teach and heal as Jesus had been doing.
First Reading: "Go, prophesy to my people Israel."  (Amos 7:12-15)
Despite being a shepherd and orchard keeper, not a prophet, the Lord called him to leave his flock and prophesy.
Letter to the Ephesians:
God has "chosen us" (mentioned twice) /  "destined us" /  "made known the mystery to us"  /  "sealed us in the Holy Spirit" / we have "redemption,"  "forgiveness" and "grace lavished on us."
Considerations:
Amos delivers his prophetic message because God commissioned him to do so.
Despite being rejected at Nazareth, Jesus continues to teach, and amplifies his original mission of proclaiming the Kingdom of God, not on his own but, instead, seeks others (the Twelve) to join in his efforts.
God continually seeks us to be his collaborators, oftentimes, much like Amos or the Twelve, we don't necessarily have the "credentials" to spread the Good News, but God calls us to accept challenges that we sometimes feel ill-equipped to face. In reality, all we really need is to discern the will of God in our lives and act accordingly with faith and trust. Through our Baptism, we are called to be "a chosen race, a royal priesthood, a holy nation, God's own people"…we have the "credentials"! 
Travel lightly: each time we think we need more instructions / training / assurances / cooperation / time / gimmicks / tools   ….. trust that we are "chosen / destined / sealed / redeemed / forgiven / and have grace lavished on us."  (Ephesians)    Trust those gifts…. and live with freedom in sharing the good news along our journey.
Fratelli Tutti:
"Francis of Assisi did not wage a war of words aimed at imposing doctrines; he simply spread the love of God." (# 4)
"Isolation and withdrawal into one's own interests are never the way to restore hope and bring about renewal." (# 30)
"St. Irenaeus used the image of a melody to make the point [of how we share with one another]: One who seeks the truth should not concentrate on the differences between one note and another, thinking as if each was created separately and apart from the others; instead, he should realize that one and the same person composed the entire melody."   (# 58)
"Let us seek out others and embrace the world as it is, without fear of pain or a sense of inadequacy, because there we will discover all the goodness that God has planted in human hearts." (# 78)
"Service always looks to their faces, touches their flesh, senses their closeness, and even, in some cases, 'suffers' that closeness and tries to help them. Service is never ideological, for we do not serve ideas, we serve people."  (# 115)
"Let us ask God to anoint our whole being with the balm of his mercy, which heals the injuries caused by mistakes, misunderstandings, and disputes. And let us ask him for the grace to send us forth, in humility and meekness, along the demanding but enriching path of seeking peace."  (# 254)
Questions of the Week
July 3/4:  Fourteenth Sunday in Ordinary Time
Children: How am I amazed by Jesus?
Adults: How is Christ made manifest in me through my own weaknesses?
July 10/11:  Fifteenth Sunday in Ordinary Time
Children:  How can I be a good listener?
Adults:  Can I recall a time when I was provided what I needed to bring God's blessings to others?  Can I trust in God whenever I feel inadequate to the task?
July 17/18:  Sixteenth Sunday in Ordinary Time
Children: Jesus needed rest.  How can I be kind and giving like Jesus when I am tired?Adults:  When has my compassion for someone or for others pushed aside my own needs?  How can I put others' needs first more often?
July 24/25: Seventeenth Sunday in Ordinary Time
Children: When were some times that I shared with others and that made me or the others happy?
Adults: What can I allocate from my plenty to relieve the hunger of someone else?