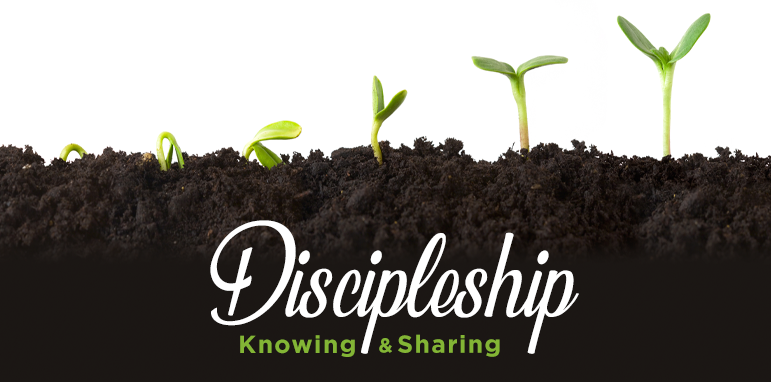 Discipleship Prayer   
Good and gracious God, Your Son, Jesus Christ, calls all people to follow Him and become His disciples, inviting us to know Him and share Him with others.
Touch our hearts and stir our spirit.
Help us daily to take up our cross and follow Him by living His Word and proclaiming His Good News to those around us.
May our faith in You increase, may our hunger for the Gospel intensify, and may our parish be strengthened as we learn to love one another as He has loved us.
Amen
Last year, as part of our parish plan, we focused on the theme of Discipleship using the Gospel of Matthew as our guide.  This year, we will, again, focus on Discipleship, but this time through the lens of the Gospel of Mark.  One weekend each month, we will concentrate on this particular theme.  We also will be providing thought-provoking Discipleship questions each week for both children and adults to ponder or discuss with one another.
Pope Francis recently issued a letter entitled Fratelli Tutti, translated as "All Brothers and Sisters", which speaks to our current challenges in the world, emphasizes the importance of human dignity and calls for a love that transcends barriers.  It serves as a guide to Discipleship in our modern world.  We encourage you to go to our website and read Fratelli Tutti.  We have links to the document and to other helpful resources.
Discipleship Weekend: September 19, Twenty-fifth Sunday in Ordinary Time
Gospel/Scriptural Focal Points: Mark 9:30-37
"He was teaching his disciples but they did not understand what he was saying and they were afraid to question him."
"Once inside the house he began to ask them what they were arguing about…they had been discussing who was the greatest."
"Taking a child, he placed it in their midst, and putting his arms around it, he said to them, "Whoever receives one child such as this in my name, receives me."
Considerations:
Jesus knows we don't get it sometimes, that we are sometimes deaf to his teachings- especially about powerlessness and vulnerability; he knows that we are often tempted to stay in our comfort zone and afraid to ask questions, hoping problem situations or problem people will just go away.
He responds with an invitation to pull away from the crowds and from our work, so he can focus his full attention on us, embrace us and help us grow.
This is also National Catechetical Sunday with the theme: Say the Word and My Soul Shall Be Healed" – time to rededicate ourselves to our mission as a community of faith to witness to the Gospel.
Being a growing disciple means we trust, open, and seek his embrace in all the places of our lives where we need healing- our pride, our arrogance, our over-dependence on ourselves, etc.
This last year we have grown from Beginning Disciples, to Growing Disciples, and Commissioned Disciples. So this year let us mature even more -and become Disciple Makers so as to produce a stronger 3rd generation of Disciples.
Fratelli Tutti
#78: "Difficulties that seem overwhelming are opportunities for growth, not excuses for a glum resignation that can lead only to acquiescence."
#113: "It is time to acknowledge that light-hearted superficiality has done us no good."
#194: Tenderness is the path of choice for the strongest, most courageous men and women.
#227: Each of us should realize that "even the harsh judgment I hold in my heart against my brother or my sister, the open wound that was never cured, the offense that was never forgiven, the rancor that is only going to hurt me, are all instances of a struggle that I carry within me, a little flame deep in my heart that needs to be extinguished before it turns into a great blaze."
Questions of the week:
September 4/5:  Twenty-third Sunday in Ordinary Time
Children: If Jesus cured you, would you keep it a secret?
Adults: In what area of your life are you being challenged to be more open?
September 11/12:  Twenty-fourth Sunday in Ordinary Time
Children: How can you tell other people about Jesus?
Adults: How has your thinking about who God is changed over the years?
September 18/19:  Twenty-fifth Sunday in Ordinary Time
Children:  Do I try to be first or last?
Adults: How do you feel when you serve the vulnerable and when you are vulnerable yourself?
September 25/26:  Twenty-sixth Sunday in Ordinary Time
Children:  How does God protect us?
Adults: How can I be patient with people who do things differently than me?