Dear Parishioners,
At parish meetings I have attended recently, I've honestly asked people: "Why are you here? Why do you keep coming to Church when our Church is in a state of crisis?" Their initial responses opened a floodgate of feelings, feelings that reflected my own…of shame and sorrow, of outrage, of disbelief, of disappointment. I grieve for the victims, I pray for healing, and I remain vigilant that all here in the parish are in a safe environment.
Without question, I believe our Church has a long and difficult road ahead of reconciliation. One case of abuse is one too many. In light of the revelation of so many cases, you have a perfect right to ask: 'What's being done? And when? And by whom?'
In an effort to keep you updated, I wanted to share some recent actions that have or will be occurring soon to address this horrendous situation:
On Aug. 16, the Executive Committee of the U.S. Catholic Bishops Conference announced the development of a concrete plan to address channels for reporting complaints against bishops and advocacy for more effective resolution of future complaints. Their plan, which relies upon consultation with experts and laity, was released Sept. 19, and will be presented to the full body of bishops in November. http://www.usccb.org/news/2018/18-152.cfm
On Sept. 12, Pope Francis scheduled a meeting from Feb. 21-24 with the 100 presidents of every bishops' conference around the world to discuss this global issue of clergy abuse and protecting children.
On Sept. 13, a delegation of American Bishops met with Pope Francis in Rome to discuss the abuse crisis in the States and to identify the next steps to addressing it most effectively.
In addition, as I mentioned in a recent homily, in 2002 the Charter for the Protection of Children and Young People was established by the American Bishops to address allegation of sexual abuse of minors by Catholic clergy. The Charter directs action in matters that include creating a safe environment for children, healing and reconciliation of victims and survivors, making prompt responses to allegations, cooperating with civil authorities, disciplining offenders, and ensuring accountability through local and national review boards.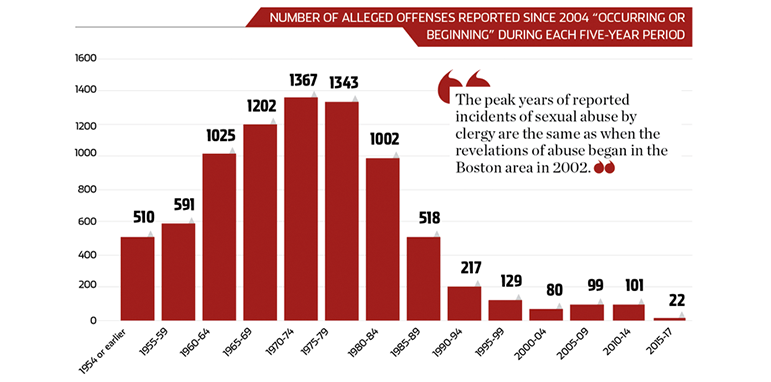 The graph cited here does show a drastic decline in the number of contemporary cases being recorded since that Charter was established. Although this data does not include the recent report by the Pennsylvania grand jury, the study associated with this graph noted that most of those incidents of sexual abuse in PA occurred before the early 2000s.
At those meetings where I asked 'Why are you here?', and after sharing their raw emotions, people said that, although their hearts are sad and broken now, they want to remain focused on Christ. They believe, as I do, that Christ grieves with us now as well, that he brought new life from his agonizing death, and that, most importantly, he promised to be with us always. For me, those insights are glimpses of hope.
Fr. Walsh
To see more data and information from the graph referenced above please to go: https://www.americamagazine.org/faith/2018/09/05/cara-study-indicates-decline-abuse-reports-worst-behind-us
After this letter from Fr. Walsh was written, Florida Attorney General Pam Bondi announced she will be conducting an investigation into the policies, procedures and practices of our Diocese regarding protecting children and vulnerable adult abuse and to investigate allegations of misconduct.  The other dioceses in our state will face similar investigations.  Bishop Noonan has assured the state prosecutor that he and all concerned are committed to cooperating with any investigation by the Florida Attorney General.
Let us all continue to pray for healing…especially for the victims and for our church.
This is copyrighted material owned by the Diocese of Orlando and may not be copied, reproduced, or altered in any way.
Here is the letter issued by the Diocese of Orlando:
Bishop Statement English