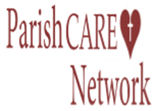 What is the Parish Care Network?
Inspired by our parish mission to share our God-given gifts and care responsibly for those in need, we seek to serve our parish members who are experiencing a time of need. A variety of services and resources are available as described below.
DIRECT ASSISTANCE
Support Groups:
cancer, caregiver, parenting, divorce, & bereavement
Individual, marriage or family counseling
Blood Pressure Screenings
Medical Inquiries
Prayer Line & Spiritual Direction
Visits, meals, errands & non-medical respite care as needed
Transportation to doctor, grocery, bank & Sunday Mass
Home visit from Parish Nurse
Pastoral visits with communion at nursing homes,
hospitals & homes within the SMM parish boundaries.
REFERRALS
Local Therapists & Counselors
Attorneys
Legal consultants
Physicians
Home Health agencies
In–Home Care agencies
Local parishes & churches,
diocesan, parish staff & clergy
Community resources:
includingsupport with rent, medication,
utilities & general support to keep people in their residence.
EDUCATION
Catholic Living Will
End of Life Issues & Advanced Directives
Marriage and Family Life
Marriage Enrichment
As Families Grow Older Classes
Wellness Classes & Referrals
Parenting Classes
Life Care Services: housing options, aging in place, for people who are dealing with diminishing ability to maintain independence and their families.
Called into relationship by the Holy Spirit and centered in the Eucharist, St. Margaret Mary Parish is a welcoming community,
sent by Christ to serve.
St. Margaret Mary Parish CARE Network
Sharon Wess, CPS
Spiritual Director
Certified Pastoral Studies
407-998-5660
sharon@stmargaretmary.org