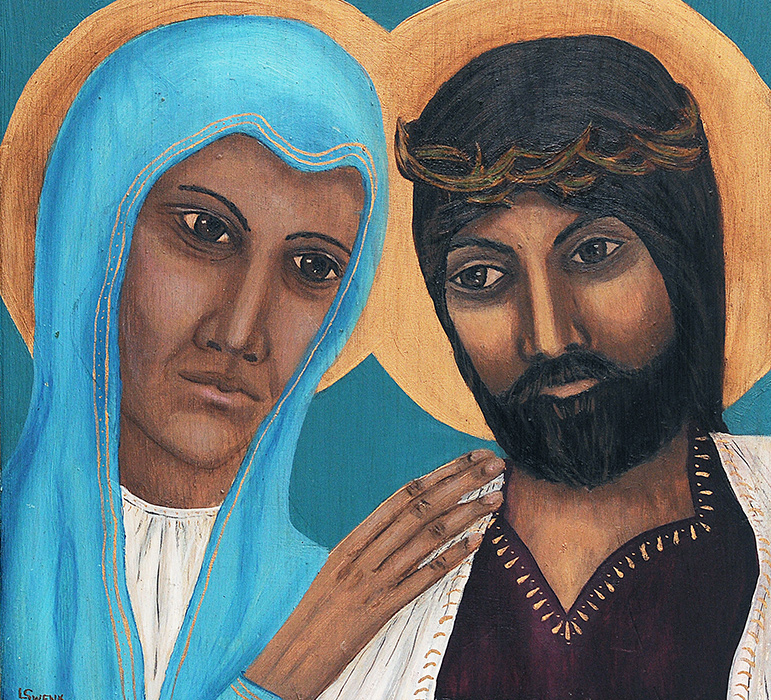 Presider: We adore You O Christ, and we praise You. (genuflect)
All: Because by Your Holy Cross, You have redeemed the world.
REFLECTION:
A mother's heart is ever so loving, gentle and protective. At a distance Jesus saw his mother weeping and sobbing. His instinct was to turn to his mother to comfort her and to be consoled in return. But he was burdened by a heavy cross, intense pain and restricted by the soldiers and the indifferent crowd. Jesus' heart was at the point of breaking, but he composed himself and offered up his unbearable pain, suffering and loneliness for our salvation.
MEDITATION:
Mary, the ever loving and overprotective mother saw her "baby Jesus" at a distance. Yes, he was still "her baby" and "her "little boy". Her unstoppable tears drenched her mantle and clouded her eyes. Gently Mary sighed saying, "Why not me, instead of you Jesus? Why is your swollen face covered with spit and blood? What have they done to you? Who did this to you?" "Please Mary, tell Jesus that it was I who now stand sorrowful and repentant of all my sins begging for his mercy and forgiveness who nailed him to the cross. It was I who turned my back on him. It was I who abandoned him."    
SUGGESTED ACTION STEPS:
In solitude, before the Blessed Sacrament, place yourself at the feet of the Crucified One, simply recalling the tender and sorrowful moment when Jesus and Mary met on the road to Calvary. In prayer, fill your heart with appreciation for the joy of knowing that your sins have been forgiven. Savor the immense joy of being forgiven, embraced and received back by the Son of God and his mother. Subsequently, visit a lonely person, a homebound person, and share this joy and gratitude in your heart with them, putting emphasis on the unstoppable love of God for all God's people.
PRAYER:
Lord, I bless the day when Mary your mother, brought me closer to you whispering the words of wisdom: "Be like my Son. Imitate him. Resemble him. When you do this, you will be happy ... and you will make other people happy too." Amen.
BY: Deacon Nemsy Gubatan
Click on the station you wish to advance to: