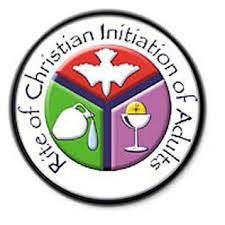 "Good is the Lord to one who waits for Him, to the soul that seeks Him."  (Lamentations 3:25)
The Rite of Christian Initiation of Adults (RCIA) is a process of spiritual and educational formation for adults who seek to become full members of the Roman Catholic Church through a conversion of mind and heart.  This process, rooted in the parish community, is open to all persons, regardless of religious background or philosophical persuasion, who by God's grace, genuinely seek to live their lives as Catholic Christians.
The RCIA process follows the ancient practice of the Church and was restored by the Second Vatican Council as the way adults prepare for the sacraments of initiation.  In 1974 the Rite for Christian Initiation was formally approved for use in the United States and a revised edition was adopted for use in 1988.
"Father, I am seeking; I am hesitant and uncertain, but will you, O God, watch over each step of mine and guide me."     - St. Augustine of Hippo
RCIA process for non-Baptized individuals
The RCIA is a journey of faith through which non-baptized persons enter the Catholic Church.  It includes several stages marked by study, prayer, discernment, and rites as Mass.  Non-baptized participants in the RCIA are known as catechumens.  They undergo a process of conversion as they study the Gospel, profess faith in Jesus Christ and the Catholic Church, and receive the sacraments of baptism, confirmation, and Holy Eucharist.
RCIA process for Baptized individuals
Individuals who are baptized Christians but not Roman Catholics also participate in the RCIA process. Since these individuals are already one with us in Christ through their baptism, they are not baptized again.  Baptized participants in the RCIA are known as candidates.  Many of these candidates are already committed to Jesus Christ and have also been active members of other Christian communities.  As such, their preparation process is shorter than that of the catechumen.  Their faith journey continues with formation to help them understand the experience, specific teachings, and practices of the Catholic Church. They also celebrate the Rite of Welcoming at Mass.  After a period of formation, these individuals receive the sacrament of Penance, make their profession of faith, and celebrate the sacraments of Confirmation and Holy Eucharist.
Beginning the journey
At St. Margaret Mary, we welcome all who desire to follow the stirrings of faith and curiosity in their heart as they seek to learn more about the Catholic faith.  Our program is a non-pressured environment for people to freely share, listen, and learn with others.
For more information, contact Karen Falbo at 407-644-6812 or [email protected].