For any questions about any of these programs please contact Contact: Michelle Tyson at (407) 647-5171 or email [email protected]
---
Faith Formation for Children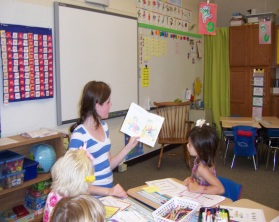 Parish children age four years through fifth grade who attend private or public schools are welcome to participate in this program. Families will use the Pflaum Gospel Weeklies for their study of the Catholic Faith. The weeklies center on the Sunday Mass readings and focus on the four pillars of the Catechism of the Catholic Church: The Profession of Faith, The Celebration of the Christian Mystery (Sacraments and Liturgy), Life in Christ and Christian Prayer. Paper weeklies will be distributed prior to the first session on Sept. 20. Digital copies are also available.
We offer two options for children to explore their faith:
In-Person
In-person classes will be offered for children in grades 1-5 on Sunday from September through May, 10:45 -11:30 am, in the Family Life Center. Children will be dropped off by parents and will meet with a trained catechist. Classes are limited to nine children and are filled on a "first come, first served" basis.
Classes will meet on the second floor of the Family Life Building. Catechists will greet children at the main Parish Hall doors, take their temperature, and escort them upstairs. Children are required to wear masks and bring their own supplies in a plastic bag. The bag must contain the following: Pflaum weekly for that session, pencil, 8-pack of markers or crayons, glue stick, scissors, and drawing or construction paper. The bag must be taken home, restocked, and brought to class each week.
Home Study
Home Study for children in preschool through fifth grade. Materials will be available in a print or digital form. Online resources will be updated weekly to more deeply explore the lessons.
Home Study is another option for faith formation. At home families will use Pflaum Gospel Weeklies for formation. Grade levels are: Seeds, for preschoolers; Promise, grades K and 1; Good News, grades 2 and 3; and Venture, grades 4 through 6. Weeklies are available in print or digitally. Pflaum offers many resources to aid families. With our customer number, parents may register and login to obtain Catechist/Teacher guides, handouts to explain the program, the Sunday Mass readings, and seasonal activities to print. Families may access weekly videos to enhance the content of the lesson. Periodically, children will take assessments or digitally send projects to the coordinator of the program to show participation and attendance. Periodically, parents and children will be invited to campus to explore a theme of our faith together.
See the Schedule for Faith Formation for 2020-2021
Circle of Grace
The Catholic Church teaches that God created us as unique and special, made in his image and likeness. God saw his Creation as "very good." In that goodness we are meant to respect ourselves and others. Adults helps children to understand that they live in a Circle of Grace in which the love of God envelopes them.
Through in-person classes or at home with families, children will learn to make a Circle of Grace by putting their arms above their heads, then circle down in front of their bodies including side to side. The program of activities and discussion will help the children to recognize a safe or unsafe environment and know how to bring concerns and fears to trusted adults.
Children will identify what belongs within the boundaries of their Circle of Grace. Fourth graders will focus on internet safety while fifth graders examine media influence.
Packets will be sent home to families in the home study program. If you do not want your child included in this program, you may sign an opt-out form at registration.
Registration
Online registration will begin in August. No paperwork will be mailed to homes. In-person classes will be "first come, first served." When they are full, a wait list will be started. Parents must sign a diocesan Covid-19 release, Image Release and Opt Out forms.
Parents seeking home study for children must also register online. In addition, parents are asked to sign diocesan Audio and Video release and Opt Out forms. Fees of $30 per child complete the registration. All parent orientations will be virtual.
First Communion & First Reconciliation
Baptized children second grade or older may prepare for First Reconciliation and First Eucharist. A copy of the child's baptismal certificate must be submitted at registration. Registration is online and accessed at the church website. Fees for materials are $35.  Parents will be trained to prepare their children for these sacraments using Together with Jesus curriculum. Retreats for each sacrament will be offered on campus for parents and children to attend together. First Reconciliation is celebrated in November, and First Holy Communion is celebrated in the spring.
More information can be found about the Sacraments here:
***Faith formation is lifelong. Children who prepare for the Sacraments of Reconciliation and Eucharist must be enrolled either in the Faith Formation program or in St. Margaret Mary Catholic Grade School. The Sacrament of Penance and Reconciliation must be celebrated prior to celebrating First Eucharist.***
***Children who attended Sacrament classes in the 2019-2020 year and have not yet received the sacrament of First Communion for the first time must be registered in a Faith Formation program or attend St. Margaret Mary Catholic School.***
---
Vacation Bible Camp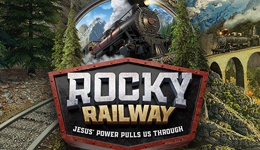 St. Margaret Mary Catholic Church welcomes children entering Kindergarten through Fifth Grade to a summer adventure on the Rocky Railway! Cost per child: $25
Week of June 14-18, 2021 - Time: 9am to Noon in the Family Life Center. Children must wear masks and bring their own snacks and water bottles. REGISTER HERE.
If you have any questions you can contact Michelle Tyson (407) 647-5171 or email [email protected].
---
Family Faith & Sunday Morning with Jesus
We are not able to offer these programs in the 2020-2021 academic year.  We hope that these programs can be offered in the future!