In honor of Pope Francis' visit to the United States September 2015, and his call for us to become a marriage building church, we offer these "Building Blocks for Healthy Marriages"
STRENGTHENING Marriages
Monthly Date Nights Sponsored by the Marriage Ministry Team
Offered once a month for all couples of all stages of engaged or married life.
We will release the 2018/19 dates later this summer.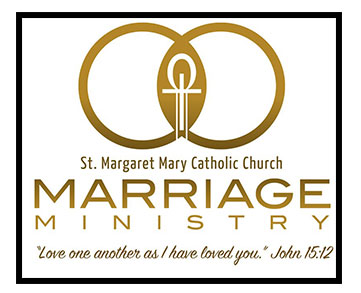 Programs are available for all:
newly engaged; newly married
civilly married; thriving marriages
interfaith marriages
struggling marriages
marriages experiencing divorce or separation
Childcare is available upon request for children under age 10 at no charge.
Fees for all programs are set at the time of registration.
All programs are held in the Family Life Center.
Books and additional resources available thru the Family Life office and on parish website. Digital Format available for 24 hour access on any mobile device.
Photos from Past Marriage Events:
PREPARING For Sacramental Marriage
This parish based program is open to newly engaged, civilly married first,
interfaith couples, and all preparing for the Sacrament of Marriage.
Offered in January, April, and September each year. Go to https://stmargaretmary.org/sacraments/marriage for more information
All couples must contact Debbie Benson to begin the Marriage Preparation process, at (407) 647-3392 or debbie@stmargaretmary.org.
REBUILDING Hurting Marriages

Don't Let Your Marriage … Break Your Heart!
Retrouvaille can help rediscover what you once had. Retrouvaille is a Diocese-sponsored program to restore communication and trust in marriage. If you feel frustrated, hurt and angry with each other; if you feel trapped by frequent conflict and don't know where to turn; please know this program has helped thousands of couples. Even if you are separated or divorced - or are thinking about it - call and give yourselves another chance. You and your relationship deserve it. For more information or registration call (352) 274-4614. All calls are strictly confidential.
If you know a couple in a hurting marriage, give the family the gift of love and tell them about this program. Retrouvaille welcomes all couples in struggling relationships who want to save their marriages. And check our website at www.retrouvaille.org
WORSHIPING AND PRAYING for Marriage
First Friday
Celebration of the vocation of marriage in worship and community life.
Adoration: First Friday of each month in the chapel.
Pope Francis: List of tips to make a marriage work
"Marriage is a Community of Life and Love, an intimate partnership for the whole of life. It is an enduring and exclusive partnership for the giving and receiving of love. Its purpose is for the mutual good of the spouses and for the procreation and education of children."
Gaudium et spes (Vatican II) Chapter 48 Catechism of the Catholic Church Article 7 #1603
For more information on any of these "Building Blocks for Healthy Marriages" contact:
The Family Life Office at 407-645-0284 or email lori@stmargaretmary.org