PARISH HEADLINES
Public Rosary
Crusade

What: The Holy Rosary - Where: Central Park (downtown Winter Park) - behind the stage - When: October 11th at Noon
Learn More
SMM
Fall Festival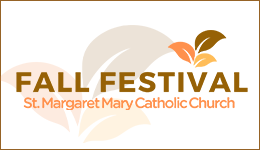 Proceeds from the SMM Fall Festival benefit the 8th grade SMMCS class trip and the Haiti Ministry. Come spend the evening with our community.
Read More
Men's
Bible Study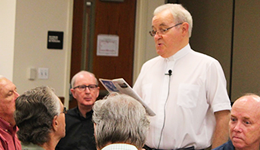 The Tuesday morning Men's Bible Study led by Fr. Walsh at 7am has begun in the Family Life Center, every Tuesday at 7am.

Advent
by Candlelight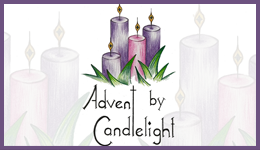 Women of the parish are invited to join us for a special evening of dinner, fellowship, and an Advent reflection.
Register Today
Daily Mass
Livestream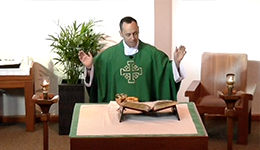 Daily Mass is streamed Mon-Fri at 8am on our website. It is also available on Facebook Live and YouTube.
View the Mass
The
Stores
The Stores offers an opportunity for local, registered families to "shop" for the items they need for the holidays at two separate events. We will be in need of food next month.

RESCHEDULED:
Blessing of Pets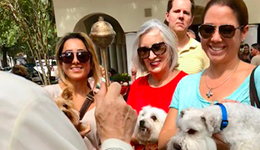 Please bring all pets to the Courtyard after the 12pm Mass on Sunday, October 8th (we will begin at 1:10pm) this is rescheduled from Octoer 1st because of weather.

We Are
Church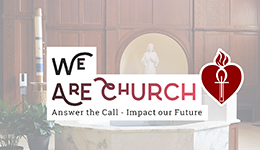 St. Margaret Mary Parish Planning Process. The entire parish is invited to participate in the PARISH SHARING SESSIONS to help plan our future!
Read More
UPCOMING EVENTS
Please bring all pets to the Courtyard after the 12:00pm...
Mark your calendar for Friday, October 13, from 6 to...
FROM OUR PASTOR, FR. WALSH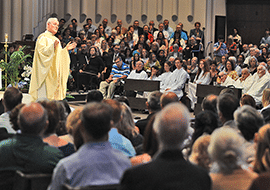 Welcome to Our Faith Community.
Each parish community has its own unique history and its own core values. Our parish attempts to put focus on four core values – Inclusiveness,... more info
PARISH VISION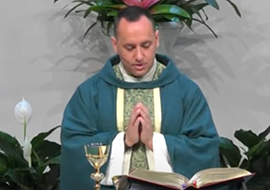 Our Vision Statement:
Called by the Holy Spirit to become the Body of Christ and transformed by our active and prayerful participation in the Eucharist, we envision a parish which embraces Christ's call to discipleship as we go forth to serve.
We, the Parishioners of St. Margaret Mary, Remain Rooted in Christ by...
HOSPITALITY
Creating a spirit of hospitality in all that we do,
WITNESSING
Witnessing faithfully to God's presence and love in our daily lives and effectively communicating that message.
LITURGY
Celebrating the liturgy with great care and devotion, placing the goal of active participation before all else.
SHARING
Sharing our God-given gifts and caring responsibly for those in need.
NEW PARISH FOCUS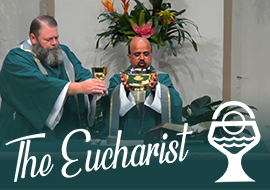 Focus on The Eucharist
Jesus Christ continually invites us to return to Him. We meet Him in all the dimensions of our lives, but especially in the celebration of the Eucharist, the source and summit of our faith. see more
OUR PARISH PLAN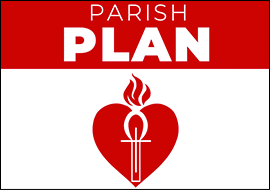 Parish Plan Overview
The hope is that this plan will help our parishioners deepen their own spirituality and become more united as God's holy family. see more