PARISH HEADLINES
Senior
Jingle Mingle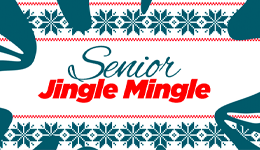 Tuesday, Dec. 6 from 4-6pm. All senior adults of the parish are invited to join us for a festive time of music, appetizers, and wine.
RSVP Today
Toy Drive with
Winter Park Police Department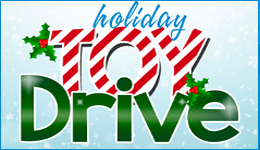 November 22 – December 18. This year SMM is partnering with the Winter Park Police Department's Helping Others Holiday Drive.
Learn More
Nightfire
Praise and Adoration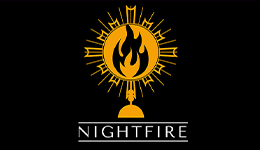 Nightfire is a time of PRAISE and ADORATION, we invite all to come and light a candle around the Blessed Sacrament. Dec. 2nd at 6:30pm.
Learn More
SMM Office
Closed for Thanksgiving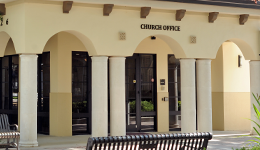 Our office will be closed Thursday and Friday for the Thanksgiving holiday, we will reopen on Monday 11/28 at 8am.

Sunday Mass
Livestream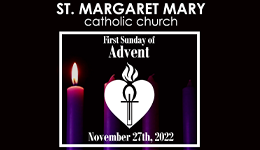 On Sunday we celebrate the First Sunday of Advent. We livestream every Sunday at 9:30am. See the livestream and the replay.
View the Mass
75th
Anniversary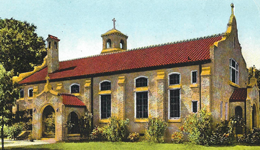 Recently we had our 75th Anniversary as a parish, see the history of our parish in a timeline.
Read More
Hallow
App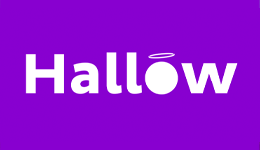 Hallow prayer app available next week… Pray always.  Pray all ways.  We have partnered with Hallow to encourage parishioners to prepare their heart this Advent season.

Advent Wreath
Lighting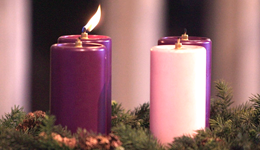 If you like to assist with the liturgies during Advent by lighting a candle of the Advent wreath at the beginning you can signup below.
Sign Up
UPCOMING EVENTS
Join us on Friday, December 2 from 6:30 pm until...
Tuesday December 6th from 4pm to 6pm in the Parish...
FROM OUR PASTOR, FR. WALSH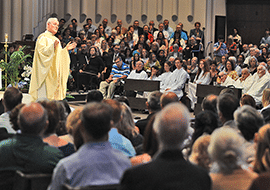 Welcome to Our Faith Community.
Each parish community has its own unique history and its own core values. Our parish attempts to put focus on four core values – Inclusiveness,... more info
PARISH VISION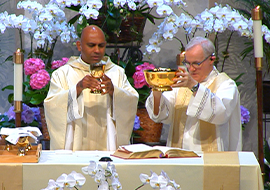 Our Vision Statement:
Called by the Holy Spirit to become the Body of Christ and transformed by our active and prayerful participation in the Eucharist, we envision a parish which embraces Christ's call to discipleship as we go forth to serve.
We, the Parishioners of St. Margaret Mary, Remain Rooted in Christ by...
HOSPITALITY
Creating a spirit of hospitality in all that we do,
WITNESSING
Witnessing faithfully to God's presence and love in our daily lives and effectively communicating that message.
LITURGY
Celebrating the liturgy with great care and devotion, placing the goal of active participation before all else.
SHARING
Sharing our God-given gifts and caring responsibly for those in need.
OUR CURRENT PARISH THEME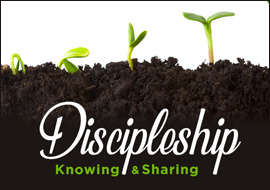 Discipleship: Knowing and Sharing
Since living as a disciple is at the core of the Christian vocation, we have made it a central part of our liturgical theme, "Discipleship: Knowing and Sharing." more info
OUR PARISH PLAN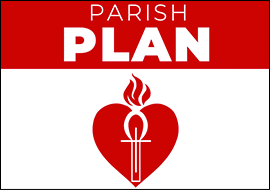 Parish Plan Overview
The hope is that this plan will help our parishioners deepen their own spirituality and become more united as God's holy family. see more