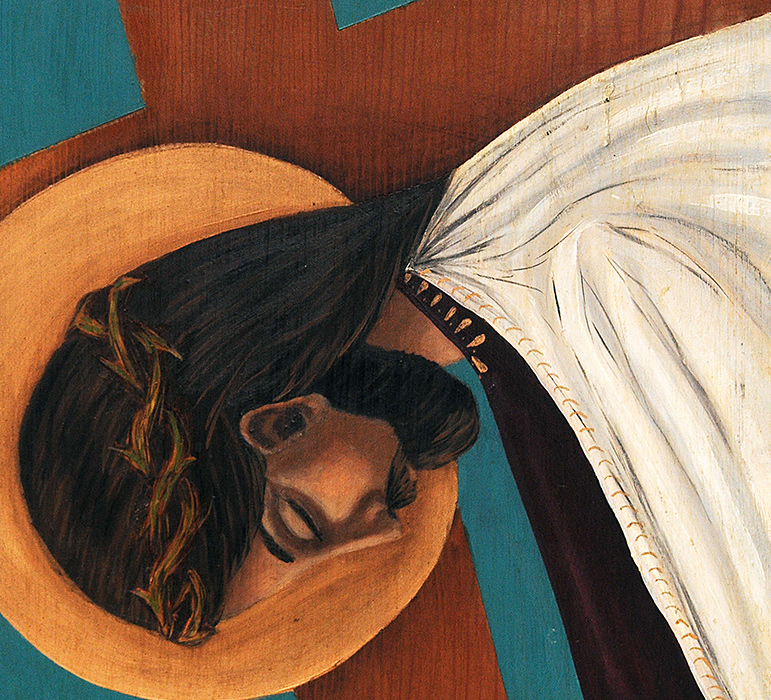 Presider: We adore You O Christ, and we praise You. (genuflect)
All: Because by Your Holy Cross, You have redeemed the world.
REFLECTION:
Jesus, you were forced to carry the weight of the cross, even with Simon helping. You did not give up. Though exhausted, you persevered. You showed us how to be faithful and dignified under the most horrific circumstances. There is nothing in our lives that you can't understand.  You so loved us, you endured suffering and death on a cross. You revealed God's unconditional love for us, and everlasting life. 
MEDITATION:
How many times do we feel the weight of grief, sadness, fear, hopelessness, betrayal, embarrassment, or pain? Do I recognize you Jesus, in the kindness of others? In the wonders of nature? In all the gifts you have given me? You reach for my hand when I fall.  Do I notice? When someone loses their job, their loved one, their mental health, their worldly status, their health...do I reach out my hand and show them your unfailing love?
SUGGESTED ACTION STEPS:
Go out today and find three people who look as though they are carrying a heavy weight. A simple smile, a hug, a kind word, some groceries, a note, a visit, or a hand, might be just the reminder they need of God's love. 
PRAYER:
Jesus, you are the resurrection and the life. Help me to never become immune to the crosses that others must carry. Inspire me to get out of my comfort zone and be your light and love, even when it inconveniences me. Amen.
BY: Louise and Mark Thompson, Marriage Ministry
Click on the station you wish to advance to: