A little about Deacon David: David Engasser moved to Central Florida with his parents when he was 12 years old. As a teen, he visited St. Margaret Mary Church as part of a retreat for young men considering entering seminary. However, it seems that God had something else in His plan for David's life. Several years later, he met his wife, Mary, and began attending SMM where they married and raised their two children, Christopher and Megan. They also have two grandchildren.
David and Mary have been active members of St. Margaret Mary for over 34 years and have served as a couple in many ministries, especially Marriage Preparation where they have been blessed to come to know so many special couples. They also serve outside the parish with the Home of the Holy Angels which cares for more than 200 children year-round in the Kibale district of Uganda.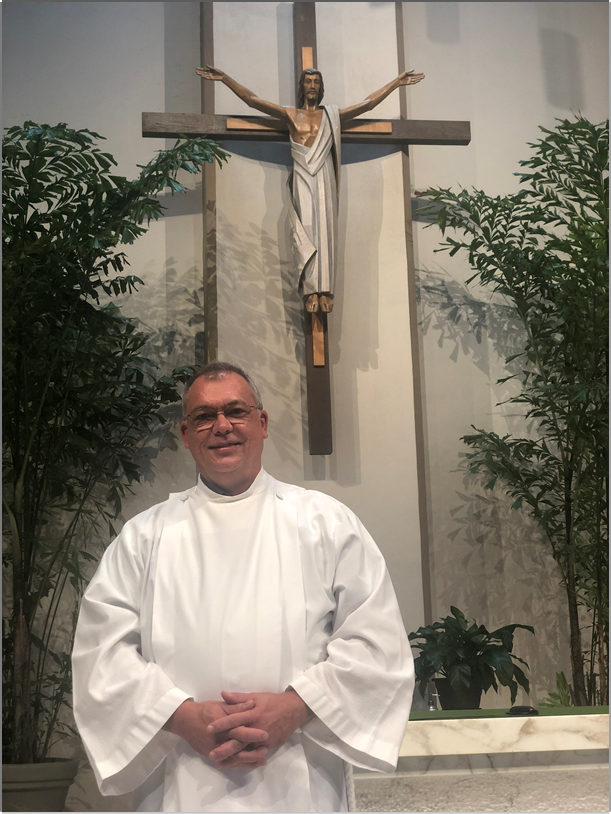 "The past six years of formation have deepened my image of who God is as a loving and merciful Father which I hope to share with everyone I encounter. These years of diaconal formation have been a great blessing for me and my family. Mary and I look forward to continuing to serve the people of God, both within and outside the walls of St. Margaret Mary Church."
What is the permanent diaconate? Men who are ordained to the permanent diaconate promise to live out the charism of service to God and the people of God through a life of ordained ministry. This commitment is characterized by service to the Word of God, the Sacraments of the Church, and a life of Heroic Charity. The role of the deacon is to be a helper of the bishops and priests, to proclaim by his life the Church's call to serve the needs of others, to proclaim the Gospel message, to live a life of fidelity to Christ and the Church and to lead the community in building a Kingdom of grace, faith, justice, and compassion. The deacon is to be a sign and living witness of the presence of Christ the Servant in the world.
If you would like to receive more information about the Permanent Diaconate program in the Diocese of Orlando, please contact Deacon Bill Timmes at 407-647-3392.