New Ministry for families with children ages 4 and under
Early Catholic Family Life (ECFL) is a program designed to draw parents and their children into faith community. We welcome families with children ages 4 and under and empower them to raise their children confidently with Jesus.
Meetings are once a month on Sundays, 10:30am-11:45am in the parish hall.
EARLY CATHOLIC FAMILY LIFE HAD A GREAT KICKOFF ON SUNDAY AT SMM!
HERE IS THE SCOOP FOR THE NEXT SESSION:
2nd Session, Sunday, October 30, 10:30-11:45am in the parish hall.
For families with children ages 4 and under.
All are welcome- even if you missed the first one.
Sessions empower parents to help their children know and experience Jesus with hands on activities, songs and stories followed by breakout session for parents while children play in the nursery.
It was great fun seeing you all teach your children more about how GOD MADE EVERYTHING! HERE ARE SOME REMINDERS:
1. OUR GOALS ARE: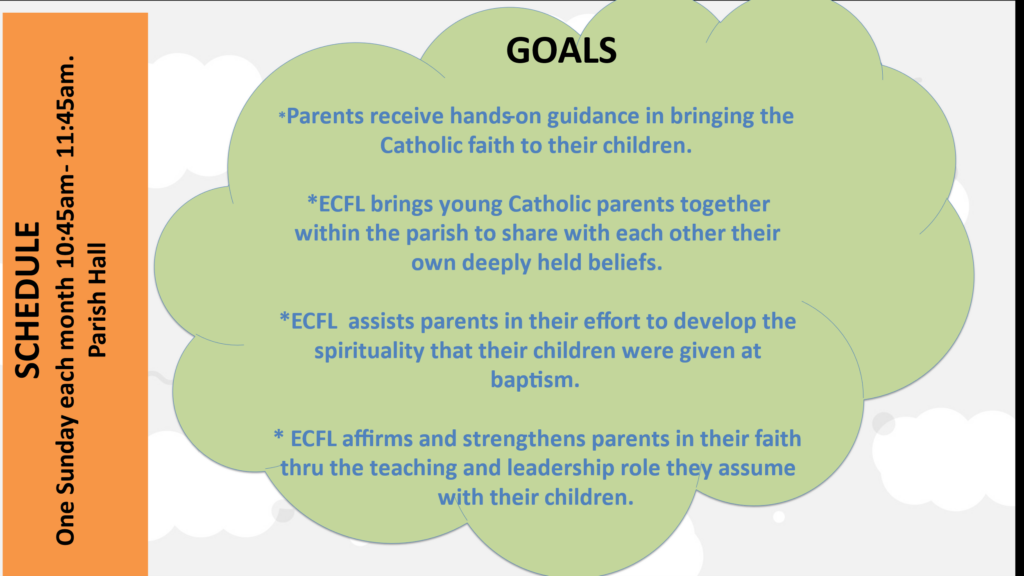 ---
2. Our next session is
---
3. Our agenda will always be the same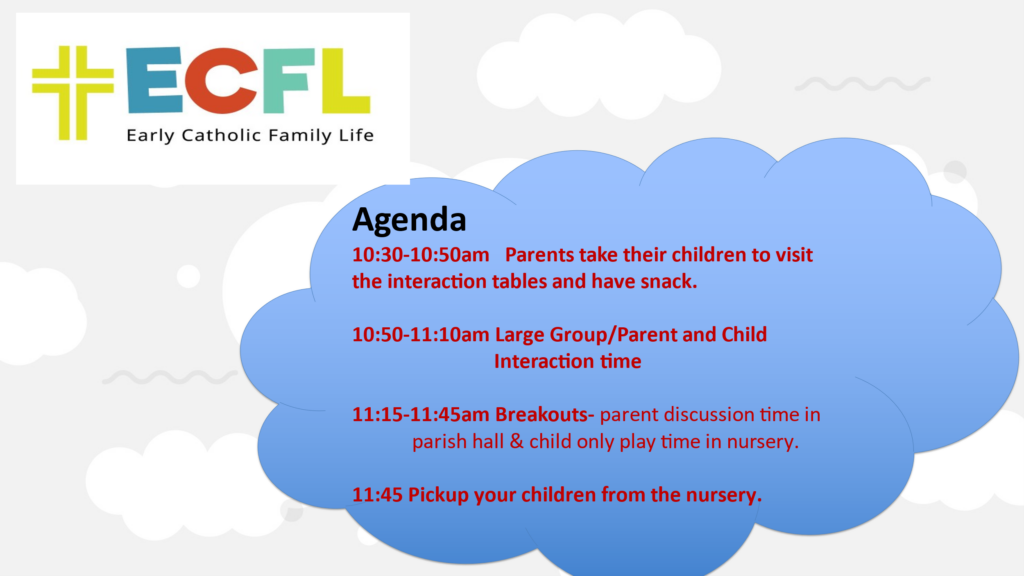 4. Rsvp for each session separately. RSVP at the bottom of this page
5. Pay once only! (To help with snacks and supplies).
6. For more information contact the Family Life Office at 407-645-0284.
---
TENTATIVE SCHEDULE:
MONTH
TOPICS FOR CHILDREN SESSION
TOPICS FOR PARENT SESSION
SEPT. 25
Session 1
GOD MADE EVERYTHING
GROWING IN FAITH.
Theme: It begins with you the parent.
OCT. 30
Session 2
WE ARE GOD'S CHILDREN
THE ROLE & RESPONSIBILITY OF CATHOLIC PARENTS
Theme: The Church calls you as parents to be faith leaders
NOV. 20
Session 3
GOD IS WITH YOU
THE SPIRITUALITY OF CHILDREN
Theme: Young children are ready to learn about God. Here is a way to teach them.
JAN. 22
Session 4
GOD LOVES YOU
PARENT'S PRAYER, CHILDREN'S PRAYER, FAMILY PRAYER
Theme: Make prayer a central part of your family life.
FEB. 26
Session 5
WE LOVE OTHERS
JESUS AS A CATHOLIC PARENT'S MODEL FOR TEACHING
Theme: Jesus is our teacher as a model for our children.
MARCH 26
Session 6
WE COME TO KNOW JESUS
KEEPING THE LORD'S DAY HOLY through WORSHIP, CELEBRATION, & REST.
Theme: How can we keep Sunday holy?
APRIL 23
Session 7
JESUS HELPS US
THE MORAL FOUNDATIONS OF OUR FAITH
Theme: How the Ten Commandments and the Beatitudes inform our parenting.
TBD
Session 8
JESUS IS THE SON OF GOD
PARENTS AS THE FIRST & PRIMARY EDUCATORS OF YOUR CHILDREN
Theme: Church teaching on rights and duties as parents.
Register below:
---