About the Miscarriage and Loss Team
If you have suffered the loss of a child through miscarriage, stillbirth, infant death, or multiple birth loss, you understand the pain that a woman and her family are experiencing. Miscarriage and Loss Team volunteers offer personal support through letters of sympathy, prayer, visits, and keeping in contact as needed.
Refer a parishioner in need of Support after Loss
Do you know of a parishioner who has recently lost a baby in miscarriage, stillbirth, or postnatal complications? Please click here to fill out the Elizabeth Ministry Referral Form and we will contact her as soon as we can.
Volunteering to serve on the Miscarriage and Loss Team
To get started, please complete the Elizabeth Ministry Volunteer Form. Once your information is received, the EM Coordinator will follow up with you to start the Diocesan requirements (if you have not already completed them).
Thank you for your interest in the St. Margaret Mary Elizabeth Ministry Miscarriage and Loss Team!
For more information, please contact the Miscarriage and Loss Team Leader: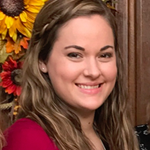 Michelle Spyckaboer
[email protected]